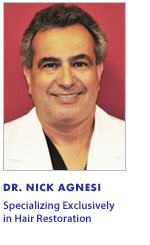 Dr. Nicholas Agnesi is one of the most experienced physicians in the treatment of hair loss, whether male pattern baldness, female pattern baldness, or burned-out scarring alopecia such as pseudopelade, or alopecia areata.

Dr. Agnesi, the founder and medical director of AHR Hair Restoration, is one of the leading hair transplant surgeons to offer natural results using innovative techniques in hair transplant surgery.

After meeting with patients, Dr. Agnesi focuses on their individual needs and helps each one to achieve his or her specific goals. Dr. Agnesi utilizes hair transplant surgery, medical treatments such as Propecia or Rogaine (minoxidil), low level laser therapy, as well as other means of hair restoration.

At AHR Hair Restoration, we realize that every hair transplant candidate has unique needs and desires. Therefore, each individual hair restoration patient's treatment plan is customized to their specific situation, including age, hair type, general health, degree of hair loss, lifestyle, and overall expectations.

There are a host of factors that must be taken into account with each patient before formulating the best plan: Some of the more important factors are: the patientís age, the hair-to-skin color contrast, the caliber of the hair, the patientís goals for later styling, and, perhaps most important, the ratio of available donor hair in relation to the recipient area in need of coverage.
---
Dr. Agnesi's Curriculum Vitae
EDUCATION
Surgical Resident

Youngstown Hospital Association

1986 - 1988

Internship

Youngstown Hospital Association
Youngstown, OH

July 1984 Ė 1985

NEOUCOM

Northeastern Ohio University College of Medicine
Rootstown, OH
M.D.

July 1981 -July 1984

Youngstown State University

Youngstown, MO

B.S. Biology

July 1970-July 1974

PROFESSIONAL EXPERIENCE
Advanced Hair Restoration LLP

Medical Director, Founder

2008-Present

Practice Affiliation with Dr. Paul Weiss

Canfield, Ohio

2007-2008

Medical Director

Advanced Vein Care

Canfield Ohio

2004-Present

Circulatory Center of Ohio

Staff Physician

Boardman OH

1989-2004
LICENSURE:
State of Ohio: State Medical Board of Ohio
Ohio License # 24, 044222, July 2011
Commonwealth of Pennsylvania, Department of State
Bureau of Professional and Occupational Affairs
Pennsylvania License # NS928524W, December 2010
Tennessee Division of Health Related Boards
Tennessee License # MD0000045400, February, 2012
New York # 253989, June, 2011
Indiana Medical Licensing Board
Indiana License # 01067077A, June 2011
PROFESSIONAL AFFILIATIONS
ISHRS, International Society of Hair Restoration Surgeons

PERSONAL
Boardman Rotary Club, 2004-Present
Cooking, Fishing, Family
---
Book Your Free, Confidential and Private
Hair Loss Evaluation Appointment Today

We place the highest priority on technical quality and personalized patient services. We extend every courtesy and accommodation to our clients and patients to ensure a pleasant, comfortable, and safe hair restoration procedure.

Hair restoration is one of the most important decisions a patient will ever make about his or her appearance. Dr. Agnesi is personally involved in each hair transplant procedure. Because he has built his practice on the principle of the highest quality of patient care and satisfaction, Dr. Agnesi and his professional staff takes the time to educate his patients before a decision to proceed with any procedure is made.
Dr. Nicholas Agnesi, hair transplant surgeon and medical director of Advanced Hair Restoration, uses the most up-to-date hair restoration medical technology to reestablish a patient's confidence, self-esteem, and self-image. Dr. Agnesi and his experienced hair transplant staff are committed to using proven techniques and leading-edge technological advances for hair loss treatment and, more importantly, to consistently produce totally natural-looking hair.
We are here to help! To meet and discuss your situation with a qualified professional, please fill in this confidential request for a free consultation. You may also contact the satellite clinic nearest you to schedule a free, confidential hair and scalp analysis.